Posted by

Alvin on Thursday, December 29, 2011
As 2011 ends, I would like to look back at my favorite albums of the past year. This was a great year for many breakout artists, but especially for Tyler, the Creator and OFWGKTA. We had a new Roots album, new Yeezy with Jay, breakthrough for J Cole, Kendrick Lamar. Lots of new artists this year, and so I'm looking forward to what's ahead in 2012.
5. Das Racist - Relax
Greedhead
This is a pretty controversial pick, as most people I know loved their mixtapes and hated their debut album, Relax. However, the production value is through the roof with songs such as "
Relax
", "
Girl
", and "
Power
." Das Racist could have easily created an album as easy to listen to as their mixes "Sit Down" and "Shut Up". Instead, they decided not to give a crap about anyone, and created an album that goes hard and all over it place. It's crazy, it's random, and it's hysterical. For all the flak they receive about being Joke Rap, they sure sound serious about their rap future. After all, they can't always keep singing about Taco Bell and Pizza Hut, can they?
4. Tyler, the Creator - Goblin
There's a reason why "Yonkers" has 30+ million views on Youtube in just 10 months alone. Okay, besides from the fact that it's psychotic, and weird (honestly, did you NOT think it was weird the first time?), it is also the perfect video to introduce the internet world to the twenty year old artist from Los Angeles. The album is mostly disturbing and dark, as Tyler constantly clashes with his inner thoughts and alter-ego's throughout the album. Now, this definitely isn't an album for the weak, as Tyler often has sick fantasies of rape, murder, Satanism, etc, but it is all fiction and just random thoughts in his mind (he even lets out a disclaimer in "Radicals"). In reality, Tyler is just a strange, rebellious, but perfectly normal dude who just wishes to hang out with his true friends more, watch Adventure Time, and even fall in love with the girl he can never have ("Her", which shows Tyler at his most vulnerable state). What ever could be wrong with that?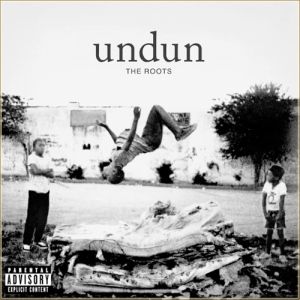 3. The Roots - Undun
Def Jam
Undun is a concept album centering around the life of fictional character Redford Stevens who ends up living a life of crime due to societies' inequalities. The entire album is reverse chronological so Redford meets his untimely end right away. It's a deeply engaging album, and at 38 minutes, is an album that is hard to take in, but can be easily repeated many times. Standouts include the single "
Make My
", which has BIG KRIT and Black Thought exchanging verses about the end of Redford's life, and the glorious 4-piece orchestral movement with Sufjan Stevens (folk, indie) starting it off, which makes for an amazing breathtaking end (or beginning?) to the album.
2. Phonte - Charity Starts At Home
Foreign Exchange Music
I'll admit I never listened to Phonte's stuff before his solo album, but I might have to after listening to "Charity Starts At Home." Standouts for me were "
Not Here Anymore
", which has Phonte bragging that he's still relevant in the game today, and that people miss him since he's not here anymore (he quit his group "Little Brother" which I will admit, I need to listen to afterwards). "
The Good Fight
" discusses what it takes to survive financially and has one of the realest lines depicting the current music industry:
Go and live out your dreams that's what they telling / Fam in my ear and they all yelling / Keep it real Te and don't ever sell out / But how the f*ck you sell out when ain't nobody selling?
"Charity" doesn't bring anything new to the plate, but it doesn't need to. Masterfully produced, perfectly sampled, and lyrically witty, this is one underrated album.
1. Kendrick Lamar - Section.80
This album is seriously good. Once opener "F*ck your Ethnicity" dropped the beat, I was hooked. It's difficult to speak about so many issues in a solo debut album, but Kendrick pulls it off flawlessly. Issues dealing with racism, state of our medicated youth, 80s crack babies, Ronald Reagan Era, Hiiipower movement (Along the lines of "Thug Life"), vices, evils, and relationships, are just some of the topics presented throughout the album. But it's the message in second-to-last closer "Ab-Soul's Outro" that really hits home. He says, So the next time I talk about money, hoes, clothes, god, history all in the same sentence / just know I meant it, and you felt it / because you too are searching for answers. I'll be sure to keep that in mind.
Honorable Mentions include: Shabazz Palaces - Black Up, Action Bronson - Dr. Lecter, A$AP Rocky - LiveLoveA$AP, Lil' B - I'm Gay (I'm Happy), Jay-Z/Kanye West - Watch the Throne, Cities Aviv - Digital Lows, Danny Brown - XXX
So any thoughts on your albums of the year? Willing to share? Leave a comment.
Happy New Year btw!